PISCES PROGRAMME STRUCTURE
The PISCES programme structure is designed around a framework of six interconnected work packages (WPs). These six WPs provide the core integrative requirements of a systems level approach to address the three themes of our programme:
1) Understanding the sources and drivers of plastic pollution
2) Assessing the impacts of plastic pollution
3) Co-designing interventions, mitigations, and adaptations.
WP1 are applying state of the art modelling approaches to understand the causes, sources and pathways of plastic waste and to identify hotspots, informing intervention.
WP2 will establish rapid and robust approaches to understand and monitor sources, distribution and fate of plastic waste generation and littering in Indonesia.
WP3 provides analysis of the impacts of plastic waste leakage on ecosystem services, ecosystem functions, and social and economic structures. Building this evidence base will continue throughout the programme, and will be central to assessing and evaluating the systems of interest before and after intervention. Crucially, WP3 will inform the identification of possible interventions, and their design – the pivotal components of WP4, 5, and 6.
WP4 will contribute to the understanding of behavioural and cultural factors associated with consumption, use, and disposal of plastic products in human systems. WP4 will contribute to WP5, which provides an integrative systems framework (CVORR) within which mass and monetary data collections can be harmonised.
WP5 will also analyse the whole system and identify interventions applicable to different levels of society (local, regional, national). The framework of WP5 is interconnected with the other WPs, and will ultimately provide an overall assessment of how to create value from plastic waste and maximise the efficiency of identified solutions.
WP6 makes theoretical solutions a reality, involving design, testing and iteration of social and technical structures to reduce and eliminate plastic leakage and promote system enablement.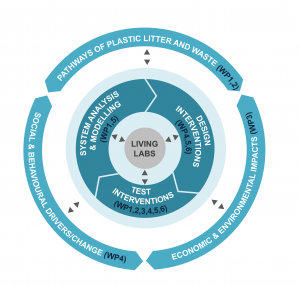 Our systems approach brings environmental, economic, technical and social disciplines together to build scientific understanding of cultural and geographic drivers of attitudes and behaviours underlying plastic use and littering (in this case in the absence of collection infrastructure). It analyses 'source to sink' dynamics of plastic leakage and litter, as well as ecological and economic risks and impacts, and potential development of interventions that eliminate leakage of waste plastic into the Indonesian environment.